Pearson passes torch for new era of Hi-Lights
From former high school newspaper staff member to class teacher
For the first time in more than 37 years, Sanger High graduate and teacher Dawn Pearson won't have to worry about a newspaper deadline.
Pearson, who was a member of the Hi-Lights staff from 1985-88, is wrapping up her tenure as the class advisor and focusing on the Digital Photography classes.
She felt it was time to hand over the reins to a new advisor. Yearbook teacher Seth Williams will teach the class next Fall.
"I am completing my 16th year as a journalism and photography teacher at Sanger High School," said Pearson, "but I feel like I have been a lifelong member of Hi-Lights. It is truly in my blood and forever will be."
Pearson has been involved with her beloved Hi-Lights newspaper in one form or another for over three decades. She was on the staff as a student in the 1980s, married to former advisor Jon Tillotson in between and took over the class as the advisor in 2010.
Prior to her teaching career, Pearson worked as community journalist and editor of various weekly newspapers owned by Mid Valley Publishing and as a Features Editor of a daily newspaper owned by Pulitzer.
Photography and journalism has always been a huge aspect of her life.
"My favorite thing to do as a kid, even before I could really spell, was to create stories and little picture books about animals," explained Pearson. "Most of them were inspired by my pets… horses, dogs and cats. It was fun giving animals their own voice."
She loved growing up in the country. She lived on the lake on Wildwood Island and attended Centerville Elementary.
Later in her journey through Sanger Unified, Pearson's interest in photography and journalism became more serious.
"When I transferred to Washington Academic Junior High, my English teacher Mrs. Shabazian encouraged me to write for the campus publication," said Pearson. "She let me write an album review of Duran Duran and that was it!"
As a kid, writing, art, music and photography were all part of her childhood dream.
But it became a career option at Sanger High under the former advisor Donald A. Peoples, who inspired her.
Thanks to Peoples, Pearson began earning real world experience in journalism during her junior year when she started rewriting press releases at The Sanger Herald newspaper in 1987.
Over the years, she moved up in the industry and worked several different positions and went on many adventures.
"I worked for the company that owned the Herald and many of the other small town newspapers in the area in various capacities from copywriter to managing editor for more than 27 years," said Pearson, "I also worked for a daily newspaper in Kings County, where I was hired to create an entertainment magazine."
It was a life of constant movement and deadlines, but she loved it. Until she settled down and wanted pursue a new career where she could give back and share the love for photography and journalism.
After many years working, Pearson decided it was time to go back to Fresno State where she earned a degree in Liberal Studies and a Career Technical Education Credential in Arts, Media and Entertainment from Fresno Pacific University.
She had been involved with the Hi-Lights staff while her husband was the advisor and she had hoped to take over if he decided to step down.
When the Digital Photography position opened at Sanger High through Valley Regional Occupational Program, she jumped at the opportunity.
Soon after Tillotson moved to the Adult School, Pearson stepped into the role of advisor of Hi-Lights and she's loved every moment with a variety of staff members, most of whom she still keeps in contact with.
"Dawn is a very talented teacher who adds so much to our campus," said Sanger High School Principal Kirstin Coronado. "She is enjoyable to be around and has provided inspiration to many students."
Pearson said she feels very lucky to have so many amazing memories with each of the staffs who have worked on Hi-Lights over the years and the teachers who were always so supportive.
"They are all so unique and have given me an absolute treasure chest full of laughter, tears and hardwork," she said. "Nothing is better than watching a student evolve and find a love for either writing, photography, design, communication or any type of storytelling."
Former student and 2017 graduate Daniel Gonzalez said he still uses the skills he learned.
"Pearson put a work ethic in her students that I didn't have before taking the class," explained Gonzalez.
Pearson is afraid many students don't take the journalism class because they think it's just a lot of writing, but that isn't the truth.
"I think they almost always find out that Journalism isn't what they think it is," said Pearson. "To see them continue to use these skills and credit our program after graduation is the most rewarding thing I can think of as a teacher. Plus, for whatever reason, I just keep getting the best darn students there are! Seriously, they are all very amazing people."
Over the years, Pearson has made connections with a diverse group of students. And for a few years, her own daughters Lauren, 2021 graduate, and Leah, class of 2023, were her students.
"She never makes it easy, even though I am her daughter," said Leah Tillotson. "She challenges me just as hard as everyone else which has helped me grow as a person."
One of the first Hi-Lights staffs under Pearson adopted a class motto after the Dunne quote identifying the purpose of journalism to "comfort the afflicted and afflict the comfortable."
Pearson has watched the media industry and news delivery systems twist and change over the years but she has always tried instill ethical journalistic practices and to teach the tenets responsible, unbiased reporting.
She often asked her students to be open-minded, but mindful of rumors, power plays and malice.
"Don't believe everything you read or hear from other people, especially on social media and even when reviewing legitimate sources," she said. "Listen to and read a lot from many different perspectives and make up your own mind. It is OK to have a different opinion than someone else. Originality and integrity leave lasting impressions."
Pearson happily reflects on the many students she has taught and the experiences they shared.
She feels a great depth of gratitude for the heart and soul her students have poured into the program and she has always tried to leave them with good advice in all aspects of life.
"Find something you love and keep doing it no matter what. Treat your dreams like any other life necessity," said Pearson. "Never be afraid to speak up and share your story or the story that others need you to tell."
Leave a Comment
Your donation will support the student journalists of Sanger High School. Your contribution will allow us to purchase equipment and cover our annual website hosting costs.
About the Contributor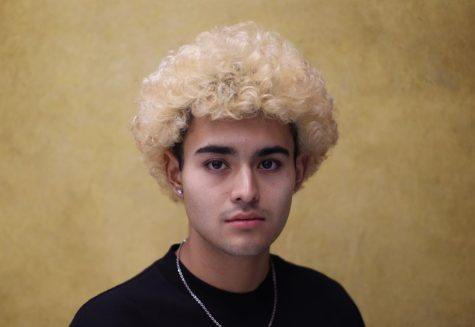 Joey Ybarra, Reporter
Joey Ybarra is a returning Sanger High student, back from the dead, or actually transferring back for his senior year from University High School in Fresno....