Jonathan Ybarra earns All-State football achievement
Sophomore Jonathan Ybarra played for the Sanger High School's football team at the right tackle position, and has recently been recognized for his dedication and effort by being given the opportunity of the title of All State player. "It means you are one of the best players at your position in the state," said Matthew Logue.
There are about five different judges and teams that pick and determine who deserves the title of All State. Jonathan was placed on the second team for the list and got the news on January 15th.
Jonathan says that the way he found out that he was picked for the opportunity was through his coach.
"Coach Matthew Logue let me know I was awarded All State via text message," said Ybarra.
Ybarra felt elated by the news.
"It was an amazing feeling knowing the work I've put in was being recognized," said Ybarra.
Coach Logue shared similar feelings.
"I was extremely happy for mainly him, it was great for him to make All State and do it as a tenth grader. It really puts his name out there for recruiters and everyone to know that he is one of the top linemen in the state," said Logue.
Ybarra has put in the hard work and time that is needed to be picked for this position in football. He works with his trainer to improve his skills.
"I have been training with my trainer coach Ken. I've been playing since I was five," said
Ybarra.
During the season, Coach Logue describes Ybarra as "big, athletic, smart."
Just like everyone else, motivation is key to succeeding in anything. His motivation to succeed has a lot to do with how he feels about others and himself in the future.
"I would say that I do it for my family to constantly strive to be a better player and person," said Ybarra.
Coach Logue believes that Ybarra being picked for All State was a result of his own hard work.
"I didn't do much to help him except all of us coaches tried to coach him to the best of our ability. He earned the honor by playing at a very high-level last year and getting noticed from his peers, other coaches, and the people who decide on this type of honor," said Logue.
In Ybarra's personal time, he says he enjoys "playing video games or hanging out with my friends."
However, like all student athletes, a good mindset is required to maintain a healthy balance between academics, sports, training and family. Ybarra has his own personal way of balancing the different aspects of his life.
"I like to split up my day into sections and use time management for school, work and sports," said Ybarra.
His dedication was noticed by his coach Logue.
"He is a very dedicated individual, he has spent a ton of time on his own when no one is watching to get better at his craft, his father has helped along the way also providing him with a lot of opportunities traveling all over the United States to compete and show off his talent. I will still challenge him to work harder every single day but it doesn't take too much because he wants to be really good and play at the next level," said Logue.
Johnathan's coach Logue said that what he accomplished throughout the training wasn't "one thing on one day, it was the body of work he put in the whole year, he played at a very high level and he
didn't miss a snap all year till the playoff game we lost."
As for Ybarra's Future goals, he wants to "play D1 football and continue my academics at a four-year college."
Leave a Comment
Your donation will support the student journalists of Sanger High School. Your contribution will allow us to purchase equipment and cover our annual website hosting costs.
About the Writer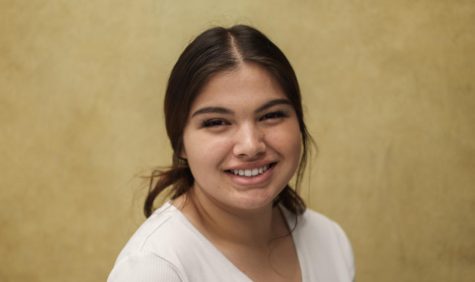 Evaney Gutierrez, Reporter
Evaney Gutierrez  grew up in Sanger and went to Lincoln and Centerville for elementary, Washington Academic Middle School and is attending Sanger High....