Apaches score thousandth point
Sanger High students make major milestone on the court
Boys Varsity Basketball player Kaleb Cole and Girls Varsity player Krista Sheaffer both earned major accomplishments on the court each scoring their thousandth point during this year's basketball season.
Sheaffer is a junior in her third year on varsity and Cole is a senior who has played on varsity all four years of high school.
Cole was able to score his thousandth in a non-league game in an exhibition match against Fresno High, he said.
"I scored my 1,000th point on a free throw. I got fouled shooting a three and I was able to get three, free throws and the first one I made I hit 1,000," said Sheaffer.
After hitting the major milestone, Cole is still in disbelief.
"It's crazy to believe really. Looking back on it, it doesn't feel like I had hit it but I did," said Cole.
As for Sheaffer, a lot of excitement went through her mind.
"I felt happy to have hit this accomplishment as a junior because my goal has always been to hit 1,000 at some point in high school. I am also excited to still be able to get better and add to my career points," said Sheaffer.
Sheaffer is focused and ready for the rest of the season.
"I am looking forward to playing each game during the rest of the league and getting ready for the playoffs," said Sheaffer.
Sheaffer is very easy to coach. According to head coach, David Campbell, she is very motivated with a desire to succeed.
"She is self- motivated and wants to achieve at a high level. Krista just needs occasional guidance to maximize her teammates to play harder," said Campbell.
Campbell believes that Sheaffer's leadership is shown by the hard work she does on the court.
"Krista is not the most vocal, but she shows her leadership by performing at a high level. It motivates her teammates to play harder," said Campbell.
Sheaffer would love to continue playing basketball after high school if she gets the opportunity to.
Coach Campbell believes that putting Sheaffer through hard in-game tasks has caused her to grow as a player mentally as well as physically.
"As a frosh she lacked some ball handling skills, but we put her 'through the fire' in games to make her understand how important those skills are. She has really grown the most by understanding the game and making little adjustments on her own to help herself be more productive," said Campbell.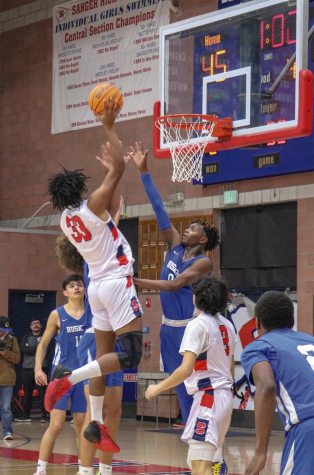 Not only is Cole a great player, he's also a great leader who has earned praise from head coach Al Alvardo.
Cole is one of the team captains and knows where each player should be in the offensive and defensive schemes, said Alvarado.
Over the last four years, Alvarado has seen Cole grow as a player.
"As a freshman, Kaleb was a tall, skinny post player. Over the four years, he has grown taller and has matured into a premier post player and developed into a good perimeter player as well," said Alvarado.
"It's awesome coaching a player like Kaleb Cole. He has a tremendous motor and is a very intelligent player," said Alvarado.
As for Cole's plans this season, he wants to take home Central Section Championship.
Cole would like to further his playing career after high school as well as further his schooling.
"Hopefully and somewhere that I can also pursue my career of mechanical engineering as well," said Cole.
Leave a Comment
Your donation will support the student journalists of Sanger High School. Your contribution will allow us to purchase equipment and cover our annual website hosting costs.
About the Contributors
Isaiah Tristan, Sports Editor
Isaiah Tristan grew up in Fresno. He attended John Wash Elementary and Washington Academic Middle School. He now attends Sanger High School.  Isaiah ...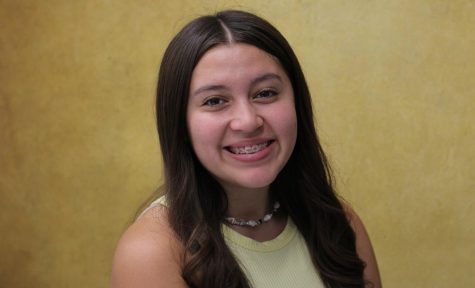 Alexis Renteria, Reporter
 Alexis Renteria, is a 17-year-old senior who attends Sanger High. Renteria and her three younger brothers were raised by their mom, Melissa Rivera, in...