Student cooks up a tasty business plan
A new business is starting to flourish, and it's owned not by an adult but by a student. Aaralyn Vang, a senior, has been running her own food operation for some time now, even accumulating her own base of customers that always come back for more.
Leah Martinez, a senior and one of Vang's regular customers, states that the taste of Vang's food is "out of this world."
Richard Meza, a senior, shares the same sentiments about Vang's food calling it "very delicious" and stating that "it's clear she puts a lot of work into them."
Vang is a senior who first started her food business "last year somewhere in the Spring."
Vang is also involved in tennis and track and field.
"I get home after practice and cook everything I can like steaming the rice and defrosting the meat overnight," said Vang, "There is a lot of waiting time between that so I just go and do my homework and assignments in the meantime.
Vang lives right near the border of Fresno and Sanger, the commute for her is about 15 minutes, not including traffic in the morning.
"When once I have the rice cooked the night before and the meat defrosted overnight, I wake up early at around four a.m. or five a.m. to cook," said Vang. "For fried rice, I cook the rice in a wok and I simultaneously throw the meat in the air fryer too. After all that, I cook the dumplings last. For my other recipe I just throw the salmon in the air fryer then take it out to mix it with spicy mayo before getting to work."
Vang charges eight dollars per box for both of the menu choices she provides.
"I pay $8 for my lunches and the price is very reasonable, taste definitely makes it worth it, and the variety of lunches to choose from," said Martinez, "The taste is definitely the biggest reason I keep coming back for more but also because I'm supporting a friend's small business."
Meza also said that Vang only charges $8 – cheaper than if he went off campus to buy food.
"[It's] the same amount she has charged since she started. Her lunches come in rather large, consistent portions, so I'd definitely say you are getting a deal when buying from her," he said.
Vang has two menu choices.
"I make egg fried rice with seasoned chicken and dumplings. I also make onigiri or rice balls with salmon filling. Recently though, salmon is getting very expensive so I might substitute imitation crab."
"Aaralyn's food has a homemade, comforting vibe that comes with it. I really enjoy buying lunches from her because you don't get the same vibe from a school or a fast food lunch," said Meza.
Vang also shares her food with her family and siblings as well.
"My siblings don't really eat my food and my family occasionally does. Usually if there are leftovers after I make food for my orders, I give it to my little brother to pack his lunch or eat for breakfast," Vang said.
"Aaralyn puts a lot of work into running her Aaralunch business," said Meza. "If you ever want to buy something that is cheap but still delicious, I'd definitely recommend preordering a meal from Aaralyn."
Leave a Comment
Your donation will support the student journalists of Sanger High School. Your contribution will allow us to purchase equipment and cover our annual website hosting costs.
About the Contributor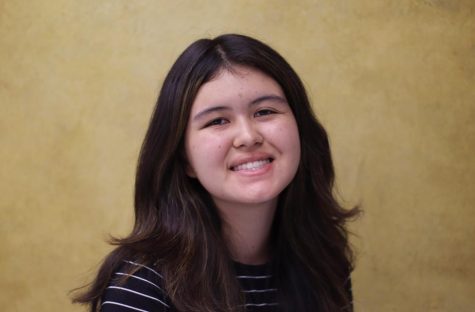 Reyna Plascencia, Reporter
Reyna Plascencia was born and raised in Sanger. She went to Reagan Elementary, then transferred to Fresno Christian for sixth and seventh grade and ended...