'Check out' a class designed to manage books
Library Science students serve as assistants to librarians
As a class, Library Science contributes to the library in many ways and notably assists with the books that come in and out of our classrooms and backpacks. Being a small class and held through fourth and sixth, its purpose is helpful to the school and beneficial to the students in it.
School Librarian and teacher of the class, Sara Smith said the class essentially gives students insight on how a library works and also provides some much needed help for the library itself.
The class itself consists of 2-3 students per period and only juniors and seniors can enroll.
"They talk to me, then let their counselor know [if] they want to join," Smith said.
Students in each class join to collaborate and pitch ideas for book-related things.
"They put together a display of books on a topic, and sometimes those have to do with the holidays or national days coming up," Smith said.
Students can contribute to this class simply through checking out books.
"Periods get extra credit for books checked out of their displays," Smith said.
In the future, Smith would love to have them plan activities for other students and do more with their Instagram @sanger_high_library.
During the 4th period, Richard Flores, a senior, enjoys being able to read manga and to be using his free time to catch up on missing work.
On top of that, he enjoys talking with the library staff.
"I wish I knew that I enjoy reading books. Before I would just read manga, but now it's manga and books," Flores said.
"Always keep up with the work required in school because you are going to fall behind if you don't keep up," Flores adds.
Flores's dream is to become a doctor.
"I recommend this class to anyone because you can display the project's you did and you can read a lot of books," Flores said.
Emily Esqueda, a junior, ends the day in the Library.
"I enjoy the small class size of library science. With smaller class sizes students develop more personal relationships with each other and get to know the staff better. Even though certain tasks may take longer to complete due to most periods only having 1 or 2 students, the work is completed more efficiently and with more care," Esqueda said.
Before, Esqueda had no idea what Library Science was and she joined the class last minute.
Esqueda described this class as being a "T.A for the library."
"Students in Library Science deliver passes, organize sections of the library, create monthly displays, tag new books, and write two book reports per semester," Esqueda added.
Once students complete their tasks for the day, they are free to work on assignments from other classes, said Esqueda.
The act of weeding was a difficult but necessary thing Esqueda learned.
"Weeding is the process of sorting the less popular/damaged books that are not checked out as frequently as other books. Although it may be difficult to do this, it is a necessary evil that makes room for new books," Esqueda added.
"My future goals are simple," said Esqueda.
"Avoid as much debt as possible, read the neverending stack of books I have collected and meet Raul Esparza someday," said Esqueda.
"I would definitely recommend this class to juniors and seniors. The few assignments and tasks required for the class are easy and enjoyable. I plan to take Library Science again next year," Esqueda added.
Leave a Comment
Your donation will support the student journalists of Sanger High School. Your contribution will allow us to purchase equipment and cover our annual website hosting costs.
About the Contributor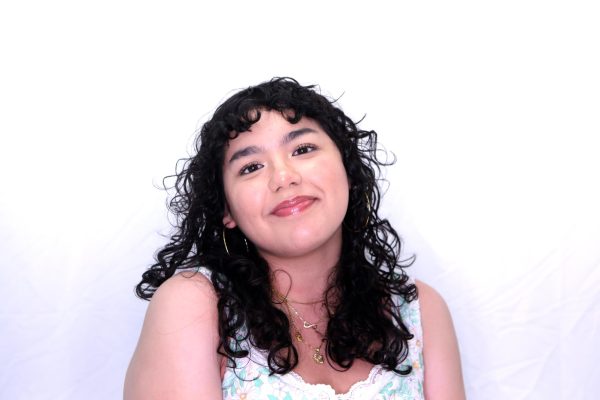 Miley Araujo, Opinion Editor
  Araujo grew up in Sanger and went to Madison Elementary, Washington Academic Middle School and currently attends Sanger High School. She has three...