From Friday night lights to spotlights
Sanger high Quarterback enjoys new found hobby
Football player Devin Salcedo has discovered a new interest with musical performing arts. His new hobby has brought the attention of many students at Sanger High including fellow classmate John Memley.
''Though I only met him through the play, I was still really surprised he went from an athlete to a participant in art,'' said Memley.
Drama has just become a passion to Salcedo very recently through family and with the football season ending he wanted to try something new.
"My cousin Timothy has done Drama since he was young, and ever since football ended there was nothing to do so I decided to see what Drama was like,'' said Salcedo.
Musical Drama teacher, Bonnie Gonzalez, believes Salcedo brings in alot in each role he plays.
"Devin has many different characters in the play and he has brought a different flavor to each one. He is a joy to work with," said Gonzalez.
Salcedo is a fast and easy learner when it comes to his roles to the point where he can even inspire others.
"Devin always stays motivated when playing his role in the play as well as inspiring others to stay motivated," said Memley.
Salcedo compares drama practices to football practices.
"Rehearsals are quicker than football, if you miss your cue then you have to improvise but in football if you make a mistake the whole play is dead, so really it's more of timing," said Salcedo.
Did you know it takes our Sanger High Actors over a month put together a whole play?      "We rehearse for 11-12 weeks before we open. Rehearsals are divided into music, dance, and scene. Then we put everything together and run the show," said Gonzalez.
Salcedo not only is a first timer when it comes to joining drama but also a risk taker as he has many roles in the musical play.
"I will be playing Tsar (king of Russia, Anastasia's father), Neva club bouncer and the male principal for the ballet," said Salcedo.
It's not only a big role for Salcedo but also other students in the play like Memley who is the male lead role of Dmitry.
With it being Salcedo's senior year it will be his last time in drama, Gonzalez is upset she can't work with him for another year.
"I'm sad he's a senior and I won't be able to work with him in future high school shows," said Gonzalez.
From the very first auditions Salcedo knew it would be fun and something he was willing to try out.
"The first day of auditions we did read-throughs and it was really fun watching everyone act and it seemed fun to do,'' said Salcedo.
Salcedo will prepare for his major role in the upcoming play which you can watch in the Sanger High MPR.
Leave a Comment
Your donation will support the student journalists of Sanger High School. Your contribution will allow us to purchase equipment and cover our annual website hosting costs.
About the Contributors
Isaiah Tristan, Sports Editor
Isaiah Tristan grew up in Fresno. He attended John Wash Elementary and Washington Academic Middle School. He now attends Sanger High School.  Isaiah ...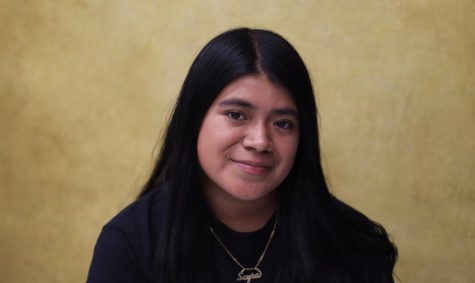 Sayra Aquino, Reporter
Sayra Aquino Garcia was born in Fresno, raised in Sanger and currently a Senior at Sanger High School. She has two younger sisters and two older brothers. 

     Her...