Velasquez leaves it all in the ring
Junior shot put and discus thrower strives for greatness
Junior Nathan Velasquez, who is a multi-sport student athlete has been throwing shot put and discus since he was in middle school, strives for greatness in what he does.
"It may look very difficult but it's not very hard. It's just about sacrificing time on your own and it's just a mindset. But you have to grind, it's always worth it," said Velasquez.
Velasquez' coach adds that he always strives to do his best whether it be at academics or athletics.
"Nathan is an intense competitor that strives to improve on a daily basis. Even though he has several commitments outside of the classroom he still finds time to complete his work and maintain a high GPA," said Steven Walker, teacher at Sanger High and football and shot put and discus coach.
Velasquez has incredible throwing skills and improves consistently.
"Nathan's throwing skills is very incredible, explosivness, and exciting every time when he steps into the ring," said Chris Martinez, throwing coach.
Velasquez aside from being a dedicated athlete, also brings a light personality to his teammates and his coaches. One of his teammates adds that he is a funny and motivated person.
"We have been throwing together since I was in 8th grade and he was in 7th. He is a great teammate who always brings positive vibes to meets and practice," said Elijah Abeytia, senior and teammate.
If Velasquez isn't on the football field, you'll find him in the throwing ring. He takes a liking in both throwing events but he finds himself to be more fond of shot put and has confidence in his skills.
"I enjoy shot put more than discus by a mile. I could very well see myself doing this at the collegiate level," said Velasquez.
Walker adds that he also see's Velasquez' improvement in shot put as well.
"Nathan is a force in the ring in both Discuss and Shot put. He recently threw 46'6 in shot put in our meet against our CMAC rivals," said Walker.
Nate found the motive to start throwing through family. He has set big goals for himself this season and for his future.
"What really made me want to try this sport was my tio he threw here and won the CMAC for discus so I really wanted to do it because he did it. I really want to win the CMAC, possibly go deep into Valleys.
Velasquez' teammate adds that he has great throws and is a naturally great athlete.
"Big Nate is a great athlete who I have enjoyed practicing with and competing against. His attitude and natural talent will help him succeed in both football and throwing. He is a great throw with lots of room to improve so I'm hoping he hits big marks," said Abeytia.
Velasquez encourages students who are considering joining track to not be afraid to come out and join the track and field family.
"Don't be afraid to come out. It's a super great environment and experience,"said Velasquez.
Martinez adds that he enjoys coaching Velasquez and the great student athlete he is.
"Nathan is a really awesome, kind, caring, responsible, and a hard working young man. He's very passionate of this sport, always willing to learn everyday, and I'm so proud of him of what he has accomplished. And he still has lots to come. I'm so happy to coach Nate" said Martinez
Leave a Comment
Your donation will support the student journalists of Sanger High School. Your contribution will allow us to purchase equipment and cover our annual website hosting costs.
About the Contributor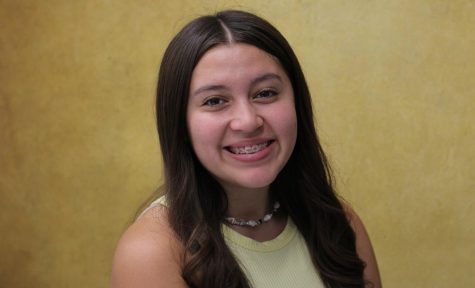 Alexis Renteria, Reporter
 Alexis Renteria, is a 17-year-old senior who attends Sanger High. Renteria and her three younger brothers were raised by their mom, Melissa Rivera, in...