CLOSE UP: Life of a 'No Life' Punkstar: The 'face' behind the music
Enemy Number One. It's been said he just makes music to hurt people.
Offstage, Joey Eli Ybarra is an awkward teen who still sleeps with plushies and loves to visit Disneyland.
"That sound you got is hard!" said a Strummers security guard at my past show. Last year, was very eventful for me, I released my debut full length album "The Brightside: A Magical Nightmare" which was dedicated to my late Tia.
I'd been working really hard to get more recognition and after the release of "The Brightside," my popularity started to grow and I gained a bit of a cult-like following. I mean hell, I'd already been lower than underground.
Before "The Brightside," I released a mix tape, "Spark of Light," which no one even myself talks too much about these days. Honestly, that mix tape is pretty bad. I will say it has some high parts as it showed my journey. It was more me throwing different ideas and genres at the wall and seeing whichever one would stick.
My music career actually started way before I even released anything on streaming platforms. Music has always been a huge part of my life. When I was 10, the bands I loved such as Blink 182, Green Day and My Chemical Romance really influenced me to make my own music.
That Christmas I was given my first guitar, and since then I've absolutely loved it. I'm self-taught and was even in a band for a moment but I felt like I needed to grow. I didn't want to just be in a band — my dream since I was a kid was to be the next biggest thing in music.
I continued to explore the possibilities and another artist came on the scene and really opened my mind. I fell in love with Tyler, The Creator's style of music, especially the old Tyler.
I just love that hard rap style but with a punk rock edge to it. "Cherry Bomb" is probably my favorite Tyler album.
Man, I'll never forget being in middle school hearing that album for the first time, so crazy how one song was some hard mosh type song then the next was the most beautiful music I'd ever heard.
I also believe in a lot of what Tyler says. At the end of the day, I just want to be myself in everything I do. I don't ever let anyone try and control the art I want to give the world. Tyler has really allowed me to be myself and not care about what anyone else thinks.
In fact, I believe that's what everyone should believe. If you love something, share it with the world, who cares about the opinions of others. You do you. We should always stay true to ourselves. If you want to wear "jorts" with Uggs, do it, who cares?
You may be asking what kind of music do I make or what's a PunkFace?
Well, I just make whatever kind of music I want to, but I love that rap flow with a punk vibe. And PunkFace? It's just a reference to one of the designs in Tyler, The Creator's clothing brand Golf Wang. The punk face design has always been so sick to me plus it's made by Tyler and punk is one of my favorite genres.
I also recommend that if you want to hear my music the best songs to hear are "Ascend," "Step Off," and "Highway."
I feel those three songs are the best to describe my music and the future direction I want to go in, but as an artist I'm always growing and having new ideas. "Pink Flamingos" is my newest single that was released on Jan. 21.
There was a gap between the release of "The Brightside" and my newest song because I was not in a good mind-set. During the making and release of my album, I experienced a lot of loss that just kept happening in my life and soon I became depressed.
I just didn't have any motivation to make any kind of music but I have gotten a better mentality and I'm ready to release again.
"Pink Flamingos" is the start of a new chapter. This song just means a lot to me because of how different I feel and how it sounds compared to what I have released in the past.
I hope to keep expanding and grow as an artist and "Pink Flamingos" is just the tip of the iceberg.
I do get asked a lot, "how do you do it," "what inspires you," and "any advice?"
All I can say is keep doing your best in everything, not just if you want to make music. Put your heart in it everyday and give it your all in life.
You don't want to look back 30 years from now and think "man, I wish I would've went hard and reached my dreams and goals." You want to say "I did go hard, and look where I am now." Or least you can say you never ever gave up on what you wanted to do. You will know you stayed true to yourself and let everyone else know that you didn't give a damn what they thought.
Leave a Comment
Your donation will support the student journalists of Sanger High School. Your contribution will allow us to purchase equipment and cover our annual website hosting costs.
About the Writer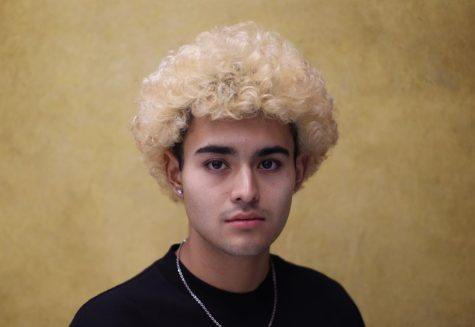 Joey Ybarra, Reporter
Joey Ybarra is a returning Sanger High student, back from the dead, or actually transferring back for his senior year from University High School in Fresno....