CNA: Bedside service with a smile
It's Amelia DeLeon's first full year of teaching at a high school but she is bringing decades of experience to the nursing training classroom.
After working at a bedside nursing facility in Fresno, where she taught and trained other staff members as an LVN, DSD, she decided to share her real world experience and start a new career as a teacher. DeLeon currently teaches three "stacked" periods of CNA at Sanger High. She also teaches adult CNA classes for Valley Regional Occupational Program.
While teaching high school wasn't always her career plans, she has found a passion for it and really enjoys her senior students she described as "very motivated, charismatic, and empathetic individuals."
In turn, her students are very fond of her as well.
"DeLeon is an amazing teacher," said senior Araya Miller. "She is very hands on and will make sure you understand what is asked before letting you work alone."
Miller said DeLeon's teaching method is more interactive and she makes learning new information fun and students look forward to attending the class.
"She doesn't spend the whole class period lecturing and repeating herself," said Miller. "[She] has become one of my favorite teachers because of how nice and cool she is about everything but still keeps structure in all her classes."
"This is my first experience with high school students," said DeLeon. "I would like to encourage students at SHS who are interested in healthcare to give CNA a chance. The potential to give back and serve your community is so rewarding."
De Leon said the possibilities and potential for growth from a CNA career are endless and taking the class helps students get an idea of what is out there. It also looks good on a resume, she added.
"You will always find a job as a CNA," said De Leon.
CNA teacher DeLeon expresses what she most enjoys about being an instructor.
"I really enjoy getting to know my students and creating a supportive environment for them. I love being a nurse and sharing my experiences (even the mistakes) with them" said DeLeon.
Another one of her students, Gavino Ochoa, said DeLeon is a great teacher who is very interactive with students
"[She] makes sure we understand the work," said Ochoa.
De Leon did not go to traditional college to pursue a career in teaching, "it kind of fell into my lap" she said. But, she did attend Adult School where she earned a licensed vocational nursing license in two years.
"I also have a degree in being really cool, so that has helped me throughout the years," she laughed.
DeLeon grew up in Clovis and attended all Clovis schools from K-12. She currently lives in Fresno with her husband and two dogs, a pug and an English Bulldog. She enjoys reading, scrolling TikTok.
"My future goals are to read at least 50 books this year, to get a 100% pass rate for the CNA state exam, and to finish my credentialing program by next year," said DeLeon.
Leave a Comment
Your donation will support the student journalists of Sanger High School. Your contribution will allow us to purchase equipment and cover our annual website hosting costs.
About the Contributor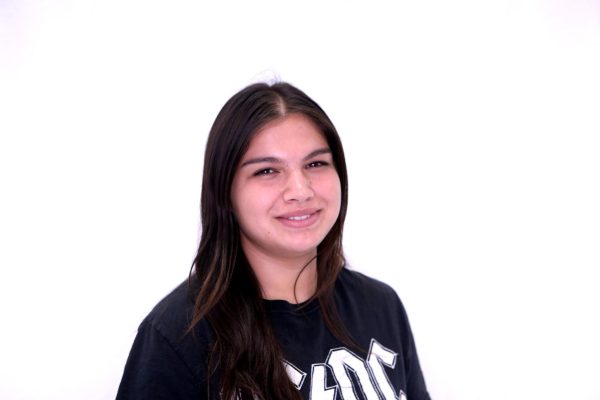 Evaney Gutierrez, Digital Managing Editor
 Evaney Gutierrez is a 17 year old senior at Sanger High School, and plans on taking on a career of fine arts and maybe a studies of biology as well,...