Jumping into the lives of track and field athletes
Some students in Track and Field participate in jumping events; launching themselves in the air or across the field. Brandon Taylor, one of the Track and Field coaches who has also been coaching for 25 years, is happy with his current group of athletes.
"My favorite part of coaching is the mentor-mentee relationship built with the student-athletes. We spend a lot of time together out on the track to learn each other's personalities and what kind of coaching they respond to," said Talyor.
"Two jumpers that stand out on the team are Gavin Gonsalves and Atianna (Ati) Marques. They are high-achieving students, and they transfer that focus to the track. Gavin is an excellent technician at his events, and his form benefits him. I've been coaching him for the last four years, but I first noticed him in middle school while WAMS was practicing at the same time we were. Ati is a go-getter, and you get 100% from her every time she competes. I've been coaching her for the last three years and noticed how good an all-around athlete she is as a first-year high school student. There are probably 5-8 events she should compete in for our team, although they can only compete in 4 events in any one meet. Overall we have a lot of dedicated student-athletes on the team with great potential. If they put in the work and trust their coaches, they will continue to improve toward their goals," said Taylor.
Gonsalves works on his strength going into the offseason.
"The gym is where you can find me on the off season. Dedication takes year round work even though the season lasts a couple months," said Gonsalves.
Dedication is key when trying to balance sports and academics.
"Track and field is the first sport that stuck with me, I started for fun but found a passion. My motivation is my competition, I strive to be the best at what I do," said Gonsalves.
Inspiration plays a big part in sticking to a sport and wanting to be better at it.
"I've always enjoyed jumping on the trampoline as a little kid. Once I started track and field in third grade, I fell in love with the jumps," said Gonsalves.
Gonsalves's routine is special to him.
"My pre-meet ritual is listening to music. I usually won't talk to anyone before I start jumping
because I find I jump better if I focus on my music and the mood it sets," said Gonsalves.
Gonsalves, like others, has a favorite warm up.
"I like to do A-skips to keep my legs warm before I'm about to jump. When it's my turn, I take a deep breath and sing a song in my head so that way I don't overthink my jump," said Gonsalves.
Gonsalves loves to stretch, giving him the opportunity to do his best.
"My favorite stretch would be hamstring stretching. My hamstrings are constantly being put through brutal workouts as a jumper, so I need to keep them flexible so that way I don't pull them," said Gonsalves.
Marquez enjoys the feeling that comes with the jump.
"I love the feeling of being in the air," said Marquez.
Marquez gets motivation and inspiration from other athletes that compete in the same field as her.
"Olympian or Pro Athletes are who I strive to be like and ultimately motivate me," said Marquez.
During the offseason, Marquez still practices.
"I continue to workout and practice technical skills for my events," said Marquez.
Marquez focuses on her breathing when preparing to jump.
"I take a few deep breaths and trust my training," said Marquez.
Marquez likes to stretch in order to get ready.
"I like to stretch my legs the most but one of my favorites is called a 'butterfly" stretch,'" said Marquez.
Marquez's longest jump was "pole vault-11 '3.'"
Gonsalves's personal best was over five feet high jump and over 12 feet pole vault.
"My highest jump for high jump is 5 feet 8 inches and my highest jump in pole vault is 12 feet 8 inches," said Gonsalves.
Leave a Comment
Your donation will support the student journalists of Sanger High School. Your contribution will allow us to purchase equipment and cover our annual website hosting costs.
About the Contributors
Ricardo Gutierrez, Reporter
Ricardo Gutierrez also known as Richie was raised in Sanger and has attended Sanger Academy Charter School since kindergarten, He is the oldest of four...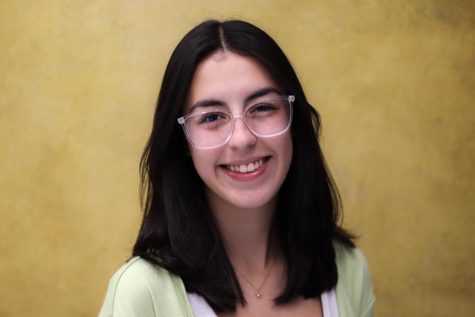 Valeria Munoz Reyes, Photo Editor
Valeria Munoz Reyes is a senior this year with hopes of graduating. Reyes grew up in San Juan De Los Lagos in Jalisco, Mexico. In 2014, when she was nine...